SEO Training
Google: live online Course
Improve the visibility of your company, discover untapped potential and learn to unleash its benefits!
BOOK OUR COURSE
About Us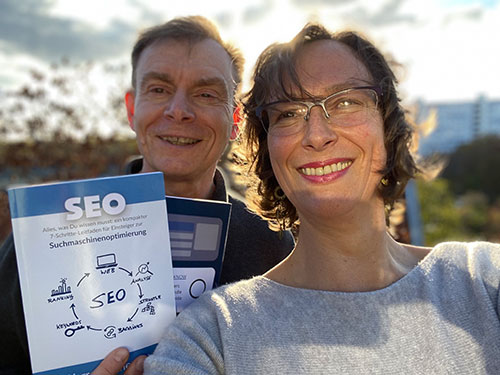 Bettina Heuser & Warren Laine-Naida ↓ have been in the business for over 20 years. We are experienced web designers and have realised quite a few projects over the years.
We regularly teach WordPress & SEO/SEA at a Berlin-based educational institution and have our finger on the pulse of trends and technology. Together we combine technical and marketing skills and advise small businesses and non-profit organisations on their online presence and communication.
In the photo you can see us with our SEO book →
Kurs buchen →
What we Offer
Small Groups
Max. five participants
What is SEO?
Search engine optimisation – what does that actually mean?
Offsite optimisation
Outside your web presence: Backlinks, what are they?
Social Media & SEO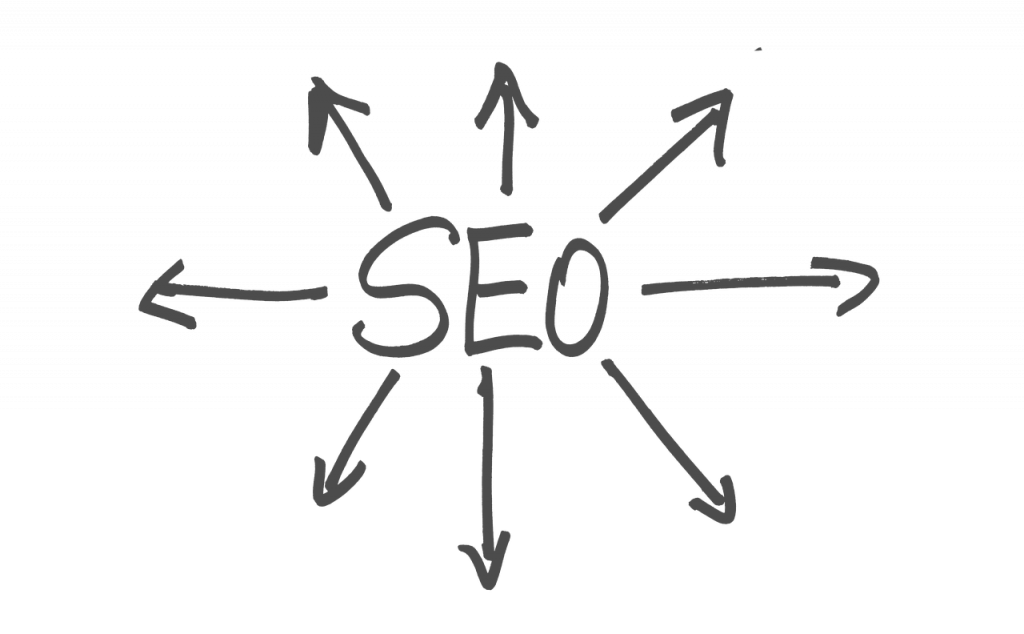 How does Google work?
Why 90% of the world uses Google
Analysis tools
Free tools to get information and measure progress.
Onsite optimisation
What specifically do you need to do on your website?
Time & Price & Content
Here you will find the standard services for our SEO workshops – we will take a closer look at your website, check your visibility and discuss a concrete plan with you.
Hourly basis
Analysis of the current state of your website
Depending on the time together: individual contents Day 1 & 2
Training Materials
Our SEO book "SEO All you Need to Know"
For 50,- plus VAT. Video recording of the important insights, work steps, password-protected on Vimeo only available for you.
1. Std. 130,- €
Each additional hour 100,- €
plus. 19% VAT
Register
1 day*
Structure Google results page
Website analysis
Difference SEO and SEA
On-Site Optimisation
On-Page Optimisation
Programming and SEO
Content and SEO
Backlink ideas for SEO
Meta information
Sitemaps
What is Off-Page Optimisation
Tools
Google Search Console
Rank Math or Yoast
Woorank Firefox
Alt Image Viewer
Times
9:00 – 15:00
Training Materials
Our SEO book "SEO All you Need to Know"
For 50,- plus VAT. Video recording of the important insights, work steps, password-protected on Vimeo only available for you.
* Additional days can be booked on request
Bootcamp
Contents of the 1-day SEO course plus → Individual roadmap
Google Search Console,
analysis, benefits
Connecting websites with Bing Webmaster Tools
Backlink strategy
Backlinkchecker
Social Media and SEO
Competitor comparison
SEA: Google Ads make sense & are easier to implement than you think.
Wednesday, Thursday, Friday: 18:30 – 21:30
Saturday: 9:00 – 17:00
Training Materials
Our SEO book "SEO All you Need to Know"
For 50,- plus VAT. Video recording of the important insights, work steps, password-protected on Vimeo only available for you.
Optional: one follow-up appointment at the welcome-back price of €107/hour incl. VAT. – please contact us.
Optional: a sandbox, i.e. a practice installation of WordPress – can also be a password-protected copy of your website. – please contact us.
What Customers (and our Students) say
Joachim K.
With her professional SEO knowledge, Bettina Heuser enabled us to quickly achieve visible organic growth in the Search Engine Result Pages (SERP) within a few weeks and showed us many other optimisation possibilities (including landing pages, etc.). Thank you, dear Bettina Heuser, we will incorporate all your suggestions step by step. We recommend Bettina Heuser's service for SEO and website optimisation with at least 5+ stars. We are very much looking forward to her further SEO support and future intensive cooperation.
Ulrike P.
Especially for newcomers to the field of SEO/SEA, the lessons were very comprehensible and profitable. Bettina Heuser always underlined her explanations with tips for further explanations on the web. I particularly liked the fact that we were given the opportunity to further optimise the practical exercise independently until the end of the course in order to increase the learning effect even more. I really took a lot away with me and was able to get enthusiastic about this topic. Many thanks from Rostock!
Kerstin K.
Warren Laine-Naida Digital Consulting stands for competence, professionalism and reliability. In addition, I feel understood and taken care of when talking to Warren, as well as when implementing my concerns in the areas of website optimisation, SEO and online marketing. There is still a lot for me to learn in digital thinking… I've come to the right place, and I'd recommend it to anyone! I look forward to further cooperation.
Anja L.
Dear Warren, I completed a further training course on SEO with you in April 2022 via the cimdata Bildungsakademie. You designed the seminar really well, presented complex contexts in an understandable way, and it helped me a lot for my homepage. You answered questions patiently and gladly at any time, and also went into the content again if necessary, if it wasn't directly understood. There are many seminars on the topic of SEO, but my decision for exactly this one was more than right. Once again, thank you!
---
Practical example: search engines
We show you how organic SEO works. Here is an example from a client: 500% more clicks and 600% more visibility on Google in the last 12 months. Continuous improvement from day one!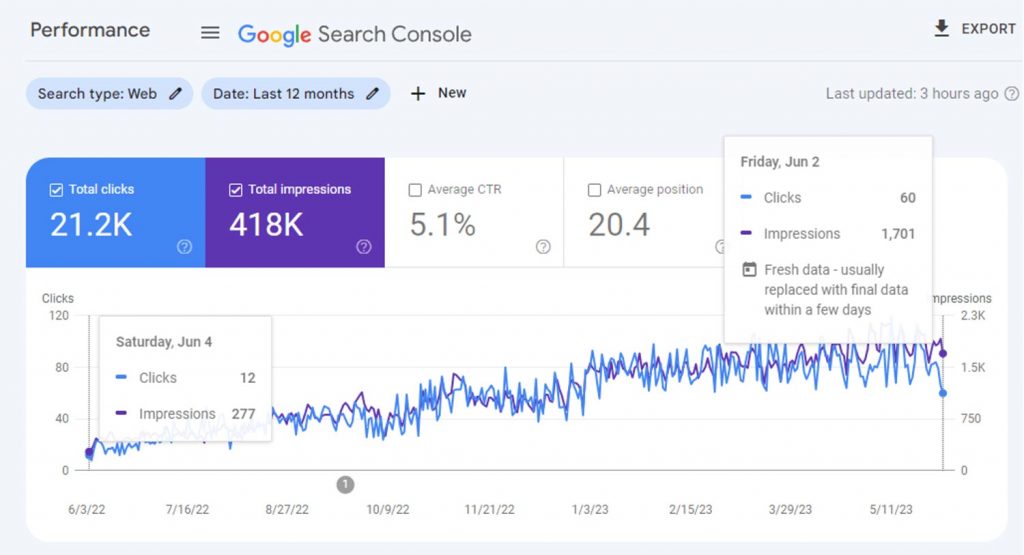 You can see the development yourself in the graphic (screenshot Google Search Console).
See the blue and purple lines? That shows that search and clicks are almost identical. This means that this website was the best result in Google and was selected as the best result from the other results in the SERPs.
Organic SEO = better ranking by optimising the website
SERP = Search Engine Result Page = search results page
Google Search Console = powerful tool from Google, can be used free of charge
Google SEO Training – live online course
Improve the visibility of your business or service, discover untapped potential and learn to unleash its benefits.
What you learn
We show you how you can be found better on Google and other search engines, such as Bing or DuckDuckGo, and develop a valid roadmap for implementing the SEO analysis together with you. From our experience we can say: a planned approach and a thorough analysis of your profession can be compared to a business plan that is solid.
SEO optimisation means: You get to know yourself, your product and your competitors. You learn to transfer these insights to your internet presence.
We set measurable goals with you that you can achieve and show you free and / or low-cost tools on how to
analyse your website
monitor your progress and you can enjoy it or adjust certain measures
adjust certain measures
We will get to know your product and work out the most important goals together – which you may not even know about at the beginning.
Face to face – we come to you!
Although it is almost unusual – direct contact can be a more intense experience and more effective. We teach in German & English, Warren is a native English speaker, Bettina is a native German speaker 😉 We feel comfortable in both languages.
Within Berlin & Bremen flat rate 30 Euro travel costs, furthermore hourly rate as above. Otherwise plus travel costs, talk with us!
What you should know about SEO
90% of all searches worldwide take place with Google.
Google is the market leader and does a lot to keep it that way – that's why the be-all and end-all is a website with relevant content.
That's why search engine optimisation is not something that can be done in a day or a week. It is long-term and depends on your constant commitment – because: Your competitors are not asleep… They may just be snoozing at the moment.
We show you how to improve your visibility with a commitment of about 3 hours a week.
Who is the SEO training aimed at?
For all those who want to become more visible on the WWW, for owners, managers, admins and those responsible for online marketing.
We would be happy to customise this training for your company. We also train at your location!
Requirements
You have a specific website that is online (it can also be a friend's website).
Two screens are advantageous, e.g. also the connection of laptop & iPad
you should know what your product is and can do
First experiences in online marketing are not harmful
The participants in our training courses are rather heterogeneous. From shop owners to programmers to journalists. We are used to getting everyone on board and creating sustainable success for everyone.
Who we Are
Bettina Heuser
… has always had a soft spot for Google & Co. and has been involved since the beginning – around the turn of the millennium as a programmer at Bild, then as a freelance web designer and lecturer for search engine optimisation and WordPress.

Most of her clients come from the healing professions. For a few years now, she has been publishing interesting facts about search engine optimisation, WordPress, DSGVO and web design on her blog digitalfahrschule.de ↑
Bettinas Website: avida-design.de ↑
Warren Laine-Naida
… created his first website in 1998 and has since worked on university, pharmaceutical, technology and entertainment websites for clients around the world.

Today he teaches WordPress and SEO and advises small businesses. Besides our training book SEO – all you need to know ↑, he also wrote, among other things: "Digital Thinking", which is also available in English and German. Did we mention that Warren loves to write? Here are all of his books on Amazon ↑
Warrens Website: warrenlainenaida.net ↑